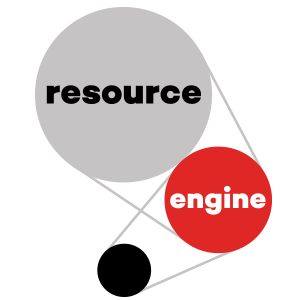 Let's get started. At Resource Engine Group, we represent a breadth of extraordinary suppliers in an effort to
support your creative process
and
paper & print needs
.

Just like before.

With 25 years in the business, we know paper, we know print and we bring passion and desire to giving your projects life. We are here to assist you with everything from the latest in paper offerings, to finding that unique print technique, to making the impossible delivery date possible. Think of us as your paper/print engine. Our wheels are always in motion.

the group
This is a dream team. Two world-class paper companies. Two exceptional specialty printers. And one innovative promotional products distributor. 
Our resource partners can inspire ideas, expand the possibilities and deliver on your vision.
Sappi

 has spent 165 years getting paper-making down to a science. Our coated papers are engineered to deliver vibrant, yet balanced colors with optimal print contrast for results that pop.

It's superior paper with a smooth surface

—ensuring every printed message will achieve maximum customer impact.  Leave a lasting impression using Sappi McCoy®, Opus®, or Flo® sheetfed, web, and digital coated papers.
CTI Paper USA is one of North America's largest suppliers of specialty premium printing papers for use in all toner-based, HP Indigo®, and offset presses. CTI's diverse,
innovative collection of branded papers, matching envelopes and packaging papers

include cast-coated Kromekote®, metallic and pearlescent Aspire Petallics®, translucent Glama Natural®, coated metallic Currency®, authentic-printable kraft, Glama KRAFT™, and a creped text and cover offering, RUCHE™.
International Paper,

 founded in 1898, is a leading global producer of renewable fiber-based packaging, pulp and paper products that millions of people depend on every day. Our portfolio of uncoated commercial printing papers include Accent® Opaque, Williamsburg Opaque Offset, and Springhill® Colors & Uncoated Bristols, as well as Hammermill® Imaging Papers. Our entire business depends on the sustainability of forests, and we will continue to lead the world in responsible forest stewardship to ensure healthy and productive forest ecosystems for generations to come.
DDL Print Shop brings attitude, intensity and creativity. Our team has a combined 20 years of printmaking experience, with a passion for
all things print

and a commitment to doing it right and delivering on time. Our innovative

artisanal screen-printing techniques

— seen in art prints and in music and theater posters — is also available for corporate communications, paper packaging and other premier marketing materials.
Dupli-Group has served the design and corporate marketplace for 70 years and we have a team dedicated to the
promotional premiums

market. To create an impactful and memorable brand experience, we
offer products from

over 3,000 suppliers

: Pens. Wearables. Tech gear. Drinkware. Signs and banners. High-end gifts. And so much more. Compliment a marketing campaign. Launch a product. Create gifts for trade shows, corporate events, or holidays. And, compared to advertising or social media, promotional products are an outstanding value. Dupli-Group is a member of the Advertising Specialty Institute.
Rohner Press has been serving the design, print and end-user markets since 1997. We are a collaborative printing partner that combines design, craftsmanship, and full-scale manufacturing. Our wide array of creative printing and finishing techniques includes
letterpress printing, engraving, foil stamping, embossing, luxury packaging

, and more! A passion for printing and servicing our customers is an inherent part of the Rohner culture.
"I have known Andrew as a valued consultant on the Chicago design scene for over twenty years and have worked with him for the past ten. He consistently brings genuine insight, concern and passion to the businesses of paper and printing and
often goes far above and beyond in helping me and my team chose the best possible products and services for our projects
. We value his expertise, deep knowledge of the industry and keen sense of aesthetics. We also look forward to his regular visits which keep us informed on design trends and fully stocked up on the latest paper swatches and samples."
Liz Nelson
Shedd Aquarium
"Andrew has been the leading creative beacon in the Midwest design, paper and printing industry the last few decades and I am proud to know him and work with him throughout my career. He is the
consummate paper professional
-deep knowledge about papers and printing, highly creative in planning industry events, amazing positive energy to make any project happen and has the most exceptional people skills I have ever seen-connecting and bringing people together. He has introduced me to so many colleagues, resources, staff, freelancers and friends that I am so grateful for. I am glad to have him as my colleague and friend."
John Avila
President, Avila Creative
"I have personally had the pleasure o

f

knowing Andrew Dembitz for over 20 years. He is an incredible evangelist to the industry and can be held to the highest standards of honesty and integrity.

Andrew serves as a profusion of knowledge and creativity to the best printers, agencies and design firms.

Driven by passion, he never fails to deliver results and leave a lasting impression. I am confident in Andrew's success as he embarks on his latest adventure."




Jeffrey Hernandez




Vice President, Classic Color
"Consummate consultant… customer centric…revenue generator.
In the thirty years I have known Andrew Dembitz, he has epitomized all of these characteristics, at the highest level, establishing the criterion for the industry. There is, simply said, no better example in the graphic arts industries."
Daniel Dejan
Sappi North America
"Andrew Dembitz is an absolute professional, problem-solver, mentor, partner and friend. Everything I know, value and appreciate about the world of paper comes from Andrew… and for that, I will forever be in his debt."
Gabe Usadel
Executive Director, Design
Ogilvy

Andrew Dembitz
has been a curator of paper and an advocate for great print communications with the Chicago design community for over 25 years. His experience is rich with proven resources, industry savvy and a knack for troubleshooting challenges with strength and wit. As the print and paper industry has shifted to accommodate the digital world, Andrew saw an opportunity to fill the void of print advocate. Thus the birth of

Resource Engine Group.

Driven by passion and purpose.
let's start the conversation